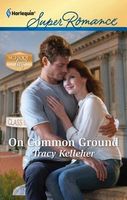 Series: School Ties (Book 1)
When Lilah Evans graduated from Grantham U, she was ready to leave college behind and change the world. Now, at a crossroads, she's doing something she never wanted to do: attending her ten-year reunion. And that means running into Justin Bigelow.

A decade ago, Justin was the big man on campus -- Mr. Self-Involved himself. So why did he nominate Lilah for the Distinguished Alumni award? One thing that's clear this nostalgia-filled weekend, he isn't the partying jock she remembers.


What's also clear is that the attraction that used to simmer between them is now more intense -- and impossible to ignore. With the stakes higher, do they finally have the courage to go for it?
Good book. I liked Lilah very much. When she left college she had a goal and a purpose and she made it happen. She came back to Grantham because she was being honored, even though she didn't feel she deserved it. She came, though, so she could make the contacts necessary to continue the work. Justin had nominated her because he felt she deserved it. He was also looking forward to seeing her, because he had cared for her back when they were in school, even though she was his roommate's girl. As they spent time together, they both came to realize that they had changed and started to care for the person the other had become. Both had challenges to meet during the time they were together, and had to learn that they had to share the bad with the good. I loved the other characters in the story, and I'm looking forward to their stories. I also enjoyed seeing Matt from "Falling for the Teacher".