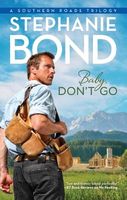 Series: Southern Roads (Book 3)
The hardheaded Armstrong brothers are determined to rebuild their tornado-ravaged hometown in the Georgia mountains. They've got the means, they've got the manpower...what they need are women! So they place an ad in a Northern newspaper and wait for the ladies to arrive....

Eldest brother Marcus Armstrong considers the estrogen-influx an irritating distraction. He's running a town, not a dating service!


Reporter Alicia Randall thinks the Armstrong brothers are running a scam and she intends to prove it -- even if it means seducing oh-so-sexy Marcus in the process. Sizzling sex and a hot story? Win-win!


At least it is, until she falls for the guy. Will love trump betrayal when the truth comes out?
Really good book. Now it is Marcus's turn to find love. He mostly considers the women in town a necessary evil. Without them, the men won't stay. His main concentration is finishing the things that need to be done so that the town can get the grant they need to move on. He is determined that it will be done. Alicia comes to town, undercover, because she is sure there is something fishy going on. She hits town and ends up as the manager of the diner as they try to get it up and running properly. The more that Alicia talks to people, and the closer she gets to Marcus, she begins to realize that the town of Sweetness is something special. I loved all the interactions between the townspeople, and with the brothers and their girls. The relationship between Alicia and Marcus was pretty cool, since neither one had any interest in falling in love, but they just couldn't help it. Homecoming Day in the town was incredible, and I loved the way everything turned out. I'd like to see more stories from the town.