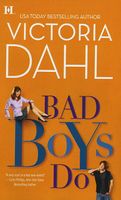 Series: Donovan Brothers Brewery (Book 3)
Olivia Bishop is no fun. That's what her ex-husband said. And that's what her smart bob and glasses imply. So with her trademark determination, Olivia sets out to remake her life. She's going to spend time with her girlfriends and not throw it all away for some man. But when an outing with her book club leads her to a brewery taproom, the dark-haired beauty realizes that trouble -- in the form of sexy Jamie Donovan -- may be too tempting to avoid.

Jamie Donovan doesn't mean to be bad. Sure, the wild streak in his wicked green eyes has lured the ladies before. Now it's time to grow up. He's even ready for a serious romance. But how can that be when Olivia, the only right woman he has ever met, already has him pegged as wrong?
I loved this book. Jamie has been my favorite character so far. I loved the way he is so comfortable with being around people, and how easily he talks to them. I also really liked the fact that there was much more to him than the easy going bartender that everyone saw, and the screwup that his brother always sees. Olivia first sees Jamie as a way to learn how to have fun. She figures he is the perfect person to help her. But the more time they spend together, the more she sees the man beneath the facade. And with his help, she rediscovers the fun-loving woman in herself. They also work together on a dream of Jamie's, and try to get his family to see it too. Tessa was ok in this book, but still too much the peacemaker. She also couldn't seem to see past Jamie's old mistakes to the new man. I just wanted to smack Eric upside the head with a 2 by 4. He kept throwing Jamie's past in his face and made no attempt to list to what Jamie had to say. It took a combination of Olivia's presentation and Jamie walking away just to get his attention. I'm really looking forward to the next book, and seeing Eric fall.