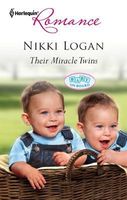 Series: Baby on Board
Love...

Belinda Rochester has fought to be a surrogate mother to her late sister's embryos. But, just as success seems certain, in bursts a tall Australian cowboy, gray eyes shadowed with emotion -- he, too, has a claim on this precious life!


Marriage...?


This baby offers Flynn his only hope of redemption, and he'll do anything to win custody...even propose marriage!


It's an extreme solution, and yet Belinda must admit her convenient husband-to-be is inconveniently gorgeous. But then comes not one but...


Two babies in the baby carriage!
Emotional book. Belinda desperately wants to be the one to carry her late sister's embryos. They are all that she has left of her sister. Just when that is about to happen, Flynn arrives to stop it from happening. He thinks that Belinda is just like her sister, who he saw as a snotty rich woman who kept his brother away from his family. He doesn't trust her not to take the baby and disappear, so he forces her to marry him and return to Australia with him while the courts decide who will have custody. But when they get to Australia, he begins to see her in a different light, as she fits in to his life. But they have lied to his family about who she really is, which doesn't bode well for any future they might want to have. Flynn must reconcile her identity with the loss of his relationship with his brother. Belinda has to be able to convince Flynn that she loves him, not just for the babies. The last few chapters were incredibly emotional.