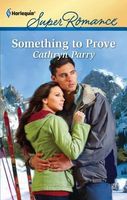 Digging for the truth is what Amanda Jensen does. And interviewing ski legend Brody Jones is a journalist's dream come true. Yet something else is happening between them, something neither of them expected. Acting on their attraction, they spend one incredible night together.

Still, Amanda's instincts tell her there's a bigger story waiting to be told.


Being snowed-in is an advantage because Brody's definitely hiding something. But if she does her job to find out what that is, she puts his comeback in jeopardy -- and risks what they share. Now Amanda has an impossible choice: her career...or his.
Excellent story of forgiveness and redemption. Amanda had a story to write, and knew she could do it. She just had to find out the whole story. Brody had been burned by journalists before, and didn't want to talk to her. Both of them had trust issues to deal with, and it nearly destroyed their relationship. Once Amanda found out Brody's secret, she had to do two things: find a way to minimize the damage, and convince him to forgive himself. She also needed to come to terms with her relationship with her father. This story brought me to tears several times, and kept me guessing as to how it would work out. I am looking forward to seeing another book from this writer.