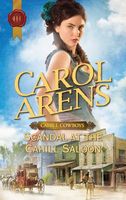 Series: Cahill Cowboys (Book 4)
Leanna Cahill: Guardian Angel or Scarlet Woman?
Leanna Cahill, once the pretty, spoiled darling of Cahill Crossing, is coming home to a very different sort of welcome. As an unwed, single mother with a band of former ladies-of-the-night in tow, her reputation is in tatters!
Cleve Holden, itinerant gambler and inveterate charmer, seems intent on seducing Leanna. But he has come to town for one reason and one reason only: to take back his abandoned nephew from the scarlet woman pretending to be his mother....
Very good book. I really liked the way that Leanna returned to town -- with her head held high and great plans for her future. She set up her saloon as a place for her ladies to learn how to lead a better life. She also had her son, who she was planning to raise near her family so he'd have good influences. Cleve came to town to take the boy away from her, thinking she was not fit to raise his sister's child. Once he got to know her, he realized that she was not the bad influence he had thought she was, and knew he couldn't take Cabe away. He also found himself falling under her spell, and decided the best thing he could do would be to marry her and take care of them both. But, he still hasn't told her that Cabe is his nephew. She also was hiding the identity of Cabe's father, and had sworn that he would never know. Leanna and Cleve also were trying to get more information on the murder of her parents. I'm really looking forward to the next book.