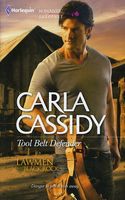 Series: Lawmen of Black Rock (Book 5)
"It's party time."

That's the "invitation" shoved under her door. It's got Brittany Grayson fearing for her life...and her sanity. She's sure the monster who once held her captive for months is dead, so why his chilling words in the note? His menacing face in the window? And why won't anyone -- even her lawmen brothers -- believe that somehow he's after her again?


Brittany just wants a normal, independent life in Black Rock. Romance is out of the question...although she's okay as friends-with-benefits with Alex Crawford, her hunky, marriage-phobic contractor. Alex, a single dad, has his own good reasons not to fall for Brittany. But none of them matter when the race is on to find the killer who's kidnapped her!
Really good book. I enjoyed the series and seeing the brothers and how their lives were going. Brittany has finally recovered enough to move back to her house and try to get her life back to normal. When she hires Alex to build a deck for her house, she can't believe the immediate attraction she feels. But she knows she isn't ready for a relationship, and neither is Alex. She doesn't feel that she is able to even think about being a wife and mother to his daughter, thanks to the trauma of her captivity. He too feels the attraction and as they spend time together he sees the possibility of something more. When the terror starts all over again for her, Alex is there to help. Then, as she and Emily are taken captive, she finds the ability to resist and begins to heal. The suspense kept me going very well. I did figure out the bad guy, but it was a great ride.