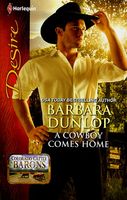 Series: Colorado Cattle Barons (Book 1)
After years of being the black sheep, an unexpected inheritance has finally drawn Caleb Terrell home. But that doesn't mean the cowboy-turned-CEO plans to settle down on his family's Colorado ranch. His single-minded goal is to sell and get out...until he's reunited with the sexy girl next door, Mandy Jacobs.

Her mere presence reminds him of happier times. Denying Mandy seems impossible, but seducing her can lead only to heartbreak. There's no room in Caleb's agenda for such a delectable distraction. Because once he gives in to temptation, he may not be able to walk away.
Good book. Caleb has come home after ten years away when he inherits the ranch instead of the brother he hasn't seen since he left. All he wants to do is give his brother the ranch and go back to Chicago, leaving all the bad memories behind. But when he gets there, Reed is gone, and Mandy is there. He decides to sell the ranch and leave, and Mandy does her best to convince him not to. Mandy falls hard for Caleb, and doesn't want him to sell his family heritage. Mandy is one of those people who is a peace-maker and fixer, and she doesn't want him and Reed to lose touch. I liked the way that Caleb pitched in to help when the storm went through the town, and the way he was able to reconnect with his old friends.