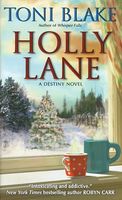 Series: Destiny (Book 4)
The weather outside is frightful, but kisses by the fire are so delightful . . .
Sue Ann Simpkins is working hard to rebuild her life and find some holiday spirit. A weekend away from Destiny in a cabin on nearby Bear Lake seems like the perfect Christmas gift to herself -- until her ex's best friend, Adam Becker, shows up at the door, claiming the cabin is his! And if that's not trouble enough, how had she never noticed how gorgeous he was?
Alone for the holidays and forced to play a reindeer at the local department store, Adam's been feeling rather Scrooge-ish himself. But finding the smart, sexy woman he's admired since elementary school waiting in the house he rented is helping to brighten his humbug mood. And when a sudden snowstorm strands them together in very close quarters, leading to one very hot night together, Adam soon realizes that what he really wants for Christmas is a second chance at love. Now all he has to do is convince Sue Ann . . .
This is the first of the Destiny books I have read. I enjoyed it a lot, so I will go back and read the others. Adam was normally a very nice guy, but was currently in a really bad mood because of missing his sons. He wasn't thrilled to find Sue Ann in his cabin. They had known each other for years as friends, but he just didn't want any company. Sue Ann had gone to the cabin to get away and try to find her Christmas spirit. She had been really down since her divorce. When she and Adam found themselves attracted to each other, they didn't resist, but decided it would be a one time thing. Turned out, they just couldn't stay away from each other. I liked Adam a lot, and the way he tried to take care of Sue Ann and Sophie. His solution with the reindeer was inspired. Sue Ann had major trust issues, and these kept getting in the way of her developing a relationship with Adam. I was glad they worked it all out.