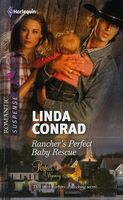 Series: Perfect Wyoming (Book 2)
Susannah Paul had been grateful to the Devotees for helping her when she was pregnant and alone. But when her baby was born with a minor defect, she discovered the horrible truth about Cold Plains. And she ran. Desperate and exhausted, she found refuge at the Pierce ranch...and a savior in surly Nathan Pierce.

Nathan had plenty of reasons to distrust the Devotees...and Susannah had been one of them. But as the delicate beauty insinuated herself into his life and his heart, Nathan realized she was different. And very much in danger. Soon nothing mattered more than protecting Susannah and her child from the evil closing in around them.
Good book. At first, Susannah didn't believe that Grayson had any idea of what was going on with his followers. She wanted to believe that he was as good as she believed. When she found out what was suspected, she took the baby and ran. When Nathan found her in his barn, at first he wanted nothing to do with her. As he got to know her, he wanted to help her break free of the Devotees' brainwashing. And then he started to have feelings for her and the baby. Susannah also fell in love with Nathan, and would do anything to keep him and the others on the ranch safe. When she had a chance to do some investigating she took it. The conclusion of this one was satisfying, while leaving the greater story going strong.