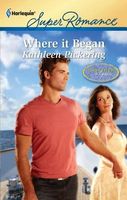 Series: Together Again
Daniel Del Rio never could say no to Maria Santiago. So although their relationship is over, when she asks him to sail her to the Bahamas, he reluctantly agrees. She's convinced that revisiting the scene of her accident will restore her memory. If it does, then maybe he can finally let go and move on with his life.

But moving on seems impossible when being in such close quarters reminds him of what they once had. Could their proximity be having the same effect on her? As he falls for Maria, Daniel realizes he has to confess his role in the accident...even if that confession could cost him a second chance with her.
Good book, very emotional. I could see Maria's pain and the confusion she felt because of her amnesia. I did have a hard time at the beginning of the book because of how snotty she was to Daniel. I could see that she was opening up to him as the trip went on, but I could see the looming disaster. I thought Daniel had the patience of a saint, to have put up with her and her attitude for a whole year. I could understand his desire to push Maria into remembering, but I was also sure that it was not going to go well. I really liked the couple that they met on their trip, and loved the way that Traci became such a good friend to Maria.