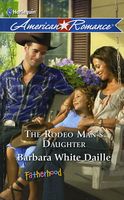 Series: Fatherhoo

d, Flagman's Folly
When Caleb Cantrell left home as a dirt-poor teenager, he never thought he'd return as a wealthy rodeo star.

As a matter of fact, he didn't think he'd return at all. The accident changed all that. It ended his career, nearly ended his life and rekindled a bitterness he thought he'd left in the dust long ago.


To rebuild, Caleb has to go back to where it all began -- back to Flagman's Folly, New Mexico, and back to his high-school sweetheart, Tess LaSalle. But a ten-year-old secret stands between them, one that could hurt everyone Tess loves, especially her daughter...their daughter...the one Caleb never knew existed.


No rodeo ever required the courage Caleb needs now -- to forgive, to forget and to start over again...if it's not already too late.
Good book. I spent some time at the beginning not liking Caleb at all. His desire to come back and rub his success in peoples' faces just didn't sit right with me. But after I got to know him, and see what was behind his feelings, it wasn't too bad. It was interesting watching him trying to process the fact that people hadn't looked down on him the way he thought they had. Meanwhile, Tess was trying to cope with his return and the feelings that it brought back. Her hurt at the way he had treated her ten years earlier was still with her, and now she was afraid of what would happen when he found out about their daughter. Seeing these two as they tried to cope with their pasts and present was painful at times.