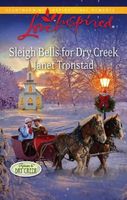 Series: Dry Creek (Book 20)
Rodeo rider Wade Stone never thought he'd step foot in Dry Creek, Montana, again. Not with his family's harrowing past. But nine years later, he's back on the Stone ranch and getting stared down by the townspeople. Except by Amy Mitchell, whose heart he broke after one sweet kiss. Wade knows she's afraid he'll leave again, but surely there's no second chance for them.

It seems the whole town -- and her family -- is against them. Until one beautiful Christmas sleigh teaches everyone the true meaning of the holiday.
Good book. I liked the way Gracie came back to Dry Creek after her release from prison. Wade wasn't comfortable at first because he was worried about how his mother would be treated. When he saw Amy again he realized that he still had feelings for her. Amy had loved Wade from the time she was a teenager. She wasn't sure if he returned her feelings. She also was having trouble with some of the revelations that had come out since the Stones came home. I did like how she stood with Wade at the end of the book.