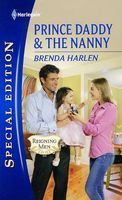 Series: Reigning Men (Book 5)
It isn't every day a woman is asked to be live-in nanny to a four-year-old princess. But it's the little girl's father who's got Hannah Castillo dreaming about storybook endings. After admiring him from afar for years, she's suddenly living under the same roof with seriously sexy Prince Michael Leandres!

As sovereign of a small Mediterranean island and CEO of a major advertising company, Michael doesn't have time for romance. But Hannah has not only won over his young daughter, she's sweeping the single father off his feet! With passion sparking between them, the uncommonly attractive teacher is tempting the widowed ruler to make a more permanent arrangement. One that includes a royal wedding with all the trimmings....
Good book. Michael is pretty lost as a dad. Riley is incredibly intelligent and he is afraid of doing something wrong, so he has gotten all kinds of tutors for her to help enhance her abilities. But because of his fears, he hasn't really connected with her. When Hannah takes over as nanny, she sees the problem and jumps in to create more time for them to be father and daughter. It also means she spends more time with him, and the crush she had as a teenager blooms into love. But she knows that a prince can't marry a commoner, and will settle for what she can get. I loved seeing how Riley was able to become more like a regular four year old. I also liked seeing Michael "wake up" after his years of grief, as he started to care for Hannah.