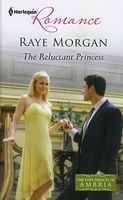 Series: Lost Princes of Ambria (Book 4)
Crown her if you can...

Betrayal made her flee her fairy-tale life inside the castle. Now Kim Guilder is struggling to raise her illegitimate baby alone in exile.


Jake Marallis has been tasked with bringing the runaway princess home. The last thing he needs is to fall for Kim... With treachery everywhere -- and his feelings for Kim and the baby growing by the day -- Jake's only choice is to speed them to safety! For, alone they are defenseless, but as a family they just might save the kingdom...and themselves!
Good book. Kim was trying to raise her baby and stay safe. She also needed to find a doctor in her war-torn country, because her baby is sick. When Jake arrives and tries to convince her to go back to the castle, she wants nothing to do with him. When he is injured she cares for him, and they start to develop feelings for each other. But she still doesn't want to return, and he is looking for revenge. They finally start to trust each other, and things begin to come together for them.