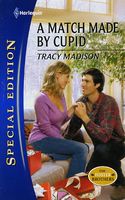 Series: Foster Brothers (Book 2)
Melanie Prentiss doesn't believe in happy endings.

So when her latest assignment pairs her with tall, dark, off-the-charts-gorgeous bachelor Jace Foster, she figures it's Cupid's idea of a joke. Collaborate on an article about love with Portland's resident playboy? A man she finds more irresistible than anyone has a right to be?

Jace is a changed man. But thanks to his popular Bachelor column, the world still thinks he's happily single. Truth is, he's been bitten by the love bug. He only has eyes for Melanie. And with Valentine's Day around the corner, now's the time to put his newfound settling-down skills to the test and prove to Melanie that they're made for each other!
Very good book. Mel had real issues trusting men, thanks to her father's desertion and her mother's bad luck with relationships. She saw Jace's playboy ways as just another example of the myth of the happy ending. Meanwhile, Jace was tired of the playboy life and wanted to change things. When they were assigned to work on a Valentine's Day article together, they took it to the next level and made a bet. Mel swore that there was no such thing as love, and Jace that there was. As they interviewed various couples together, Mel saw things she never knew existed. And the more time she spent with Jace, the more she got to know the real man. I loved the gift exchange at the end of the book.