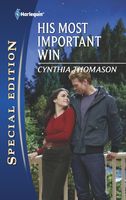 Bryce Benton is back: back living in his small hometown; back coaching his old team; and back in love with his high school sweetheart, the girl he never got over.

But this time around, Bryce is playing for keeps. He's determined not to lose the heart of Rosalie Campano ever again. Only problem is, Bryce's first love has been keeping a big secret from him all these years. And when he discovers the son Rosalie never told him about, the betrayal may just be too painful for all three of them.


Then again, true love can be a real game changer.


And if Bryce has anything to say about it, this is a game that they'll all win...together.
Good book. It was nice to see a teenager as the "secret baby" - it brings a whole different kind of dynamic to the story. When Bryce came back to town, he wanted to get to know Rosalie again. She was still having trouble getting past her grief over her brother's death and Bryce's involvement in it. She also had kept their son's existence a secret from him. As they got to know each other again, they both realized that their love had never died. But when the truth came out, there were feelings of betrayal all around. I loved the way Rosalie's mom got everyone talking.