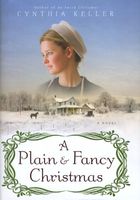 Raised in a Pennsylvania Amish community, young mother Rachel Yoder has led a simple life within her close-knit family. Widowed three years ago, she has moved back in with her parents, attempting to raise her daughter, Katie, without further emotional upheaval. Meanwhile, four hours and a whole world away in New York City, Ellie Lawrence is laser-focused on a high-powered public relations career, with too little time for her family, her friends, or even her boyfriend.

Then one fateful day, these two very different women receive shocking news of a mistake made three decades earlier and long kept hidden: Shortly after their births, the two were accidentally switched in the hospital. Shaken to the core by this momentous news, Rachel and Ellie are plunged into an exploration of who they are and where they really belong. While Ellie is eager to learn more about her Amish family and their life in the countryside, Rachel cannot help but feel jealous as she watches the only mother she has ever known bonding so easily with her natural daughter. But Rachel also knows that her own biological family is out there, and with Katie at her side she heads for Manhattan, where she establishes a connection with the raucous, spirited Lawrences.


As Ellie and Rachel make their way through unfamiliar landscapes, they face life-altering challenges and grapple with a crucial question: Will their old conventions and desires give way to new customs and yearnings? With the Christmas holidays fast approaching, it takes the love of two families for Rachel and Ellie to discover their own paths to fulfillment and happiness.
A different twist on the switched at birth story. It was very interesting to see how the two women coped with the idea of having a different family, and one so different than the way they were raised. After the initial shock, both families welcomed the "new" daughter. Meeting her Amish family gave Ellie a sense of herself that had been missing for awhile, and gave her the courage to make a major change in her life. Rachel had also frequently felt like she didn't quite fit in with her family. Ellie left her job and moved to Pennsylvania to spend time with Rachel's family. There she began to live a simpler life that felt much more rewarding to her. Rachel took Katie and went to live in Ellie's apartment in New York, and spent time with the Lawrence family. It was very hard for them in the city, especially Katie. Rachel also learned some things about herself. I really enjoyed seeing the two women as they grew and adapted to their new families.