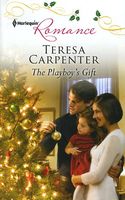 Series: Sullivan Brothers (Book 6)
An orphan baby wasn't on playboy Rett Sullivan's Christmas list, but as the holidays approach, he finds himself drowning in a sea of bottles, nappies and toys!

Skye Miller was shocked to learn her late brother and sister-in-law left their little daughter in the care of Rett, her brother's best friend...and Skye's first love.

The only way to protect her heart is to help the novice daddy and baby bond, then make a graceful exit. But the sight of Rett's strong arms cradling the baby makes Skye weak at the knees....
Good book. I liked Rett a lot. He had matured since he and Skye had lost their baby and broken up. He found himself as father to a little girl and was really terrified that he didn't know what to do. Skye was named as co-guardian, but was afraid to get too close. She had loved and lost so many people in her life that she felt that as long as she didn't let her emotions get involved she would be safe. She found out quickly that Ryanne got into her heart very easily. She also discovered that her feelings for Rett never really went away. Rett initially proposed a love-free marriage, but soon realized that he wanted the whole deal. He also knew that Skye still loved him, but was afraid of those feelings. I loved the way he convinced her.