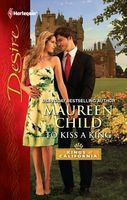 Series: Kings of California (Book 11)
For security expert Garrett King, rescuing a damsel in distress is routine—even if she is a runaway princess. And especially if she's a sexy, desirable woman he intends to keep very, very close.
Garrett knows Princess Alexis escaped her castle to look for independence and true love—and she thinks she's found it in him. But he's no white knight. As a bodyguard, he's been covertly hired to protect her during her adventure. As a confirmed bachelor, he doesn't do happily ever after…but one kiss from a princess could change everything.
Fun book. Garrett was such a soft touch for his nieces that they were able to get him to go to Disneyland, in spite of himself. He was grumping away until he saw Alex, and that she needed his help. He rescued her, then got her to stay with them for the day, and enjoyed seeing her enjoy herself. Alex had managed to give her security people the slip back at home, and immediately headed for California. She was completely enjoying the ability to just be herself when she met Garrett. When he realized why she looked familiar, he went into bodyguard mode, without letting her know that he knew. The time they spent together enabled her to be herself, and she fell in love with him. When the truth came out, she was furious and hurt. Especially when he told her there was no future for them. He refused to see that there was no reason they couldn't be together until it was almost too late. I loved the part with the return of the necklace, and the scene in the king's office at the end was priceless.