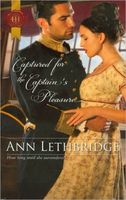 Captain Michael Hawkhurst relishes his fearsome reputation, for he lives only to wreak revenge on the Fulton family, who so cruelly destroyed his own.
Spirited Alice Fulton knows a ship is no place for a lady, but she is determined to save her father's business....
When fate delivers him Fulton's virginal daughter as his captive, Michael faces a dilemma -- should he live up to his scandalous name and find revenge with sweet Alice, or will his honorable side win out -- and win the girl...?
Pretty good book. I enjoyed Alice's way of standing up to Michael. She did a good job of negotiating the ransom demand. I think Michael didn't quite know what hit him. She also showed an amazing ability to think on her feet when she faced down the men on the Royal Navy ship to prevent him from being whipped. I also liked her escape from Sandford's house and her appearance back on Michael's ship. Meanwhile, he was dealing with his tunnel vision regarding his revenge. When he finally got it, he didn't understand why it didn't satisfy him. When things really went bad, he was devastated by what he had done and the effect of it on his relationship with Alice.