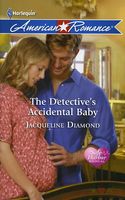 Series: Safe Harbor Medical (Book 7)

She may work at a fertility clinic, but the mommy track is definitely not in dedicated nurse Erica Benford's future. So when a one-night stand with hunky private detective Sherlock Vaughn leads to an unexpected pregnancy, Erica plans the only logical next step....

Becoming a father was the furthest thing from Lock's mind. But he'll be darned if he's going to sign away his rights to his own child! Lock knows how it feels to be unwanted, and no way is he giving up his son or daughter for adoption. If Erica isn't ready for parenthood, he'll go it alone.

Except -- what does he know about being a dad? Nurse Erica will just have to train the single father-to-be. And hope she doesn't lose her heart to both of them in the process!
This book was pretty good, though it didn't appeal as much as previous books in the series. Both characters started out not wanting to ever have children, thanks to issues in their pasts. Thanks to the loss of control one night, and a broken condom, they find themselves soon to be parents. Erica plans to simply give up the child for adoption and is stunned when Lock states his intention to raise the baby himself. I really had a problem with how intent she was on convincing him that he couldn't do it. I really respected his desire to provide a loving home. It all worked out in the end, but I had to struggle with this one.