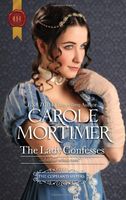 Series: Copeland Sisters (Book 3)
Having run away from home to avoid an unwanted betrothal, Lady Elizabeth Copeland must keep her disguise as an elderly lady's companion at all times.
Even when she's called upon to nurse the lady's nephew -- who rather infuriatingly happens to be the most incredible-looking man she's ever seen....
Elizabeth yearns to break out of Betsy's drab dresses to reveal that she's of the same blue blood as the rakish Nathaniel. But she must not! Unless Nathaniel gets under her guard, and elicits a confession....
Good conclusion to the series. I liked the way all three books took place at approximately the same time, but from completely different viewpoints. There wasn't too much overlapping. I loved the back and forth between Elizabeth and Nathaniel -- she kept forgetting that she was supposed to be a companion to his aunt, and kept talking back to him as if she were her normal self. She can't understand why she is so drawn to him when she considers him to be so obnoxious. Meanwhile, Nathaniel knows that she is hiding something. He just can't figure out what. He gets glimpses of what he feels is the real Elizabeth, but isn't sure just who she is. And then there is the neighbor, Sir Rufus, who creeped me out from the very beginning. I loved the conclusion, including the mystery of her mother's death.