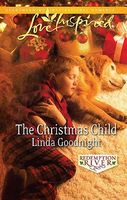 Series: Redemption River (Book 4)
Who Is Little Davey?

In Redemption, Oklahoma, a young boy is found huddled in a Dumpster, clutching a Christmas book. Scared and refusing to speak, he captures undercover agent Kade McKendrick's guarded heart. Kade brings the child home until he can track down his family -- and his story. All Kade has is a name, Davey, and the boy's trust of sweet, pretty teacher Sophie Bartholomew. With her kindness and faith, Sophie helps both the boy and the battle-scarred cop to smile again. And as they uncover the mystery of a very special child, a family is formed -- just in time for Christmas.
Good book I really liked the way that Kade and Sophie immediately took care of Davey. Kade was a cynical cop who was determined to find out why Davey was found all alone in a dumpster. Sophie was a loving woman who just wanted to care for him. She also saw something in Kade that appealed to her. Kade was sure that he didn't deserve to be loved, especially by her. As they worked to uncover Davey's story, they grew closer, and Sophie's faith began to have an impact on Kade. I loved the way the town came together to help Davey.