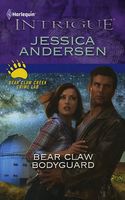 Series: Bear Claw Creek Crime Lab (Book 8)
Hot on the trail of a ruthless underground drug ring, homicide detective Jack Williams won't let anything interfere with his hunt. Not the dead-end leads, not the danger. And especially not being pulled off his case to protect Dr. Tori Bay. He can handle guarding a beautiful scientist who plays by her own rules. But keeping her out of his arms is a challenge he hadn't expected. Still, her survival depends on Jack's instincts and he isn't about to jeopardize her safety to indulge an overwhelming attraction. Jack has faced his share of challenges and usually came out on top. This time, though, as a showdown with the enemy quickly approaches, it'll take all his professional skills to ignore some very personal impulses....
Really good book. I liked the way that Jack and Tori were two totally different types of people, but still found things they had in common. I really liked the way that Tori was so much more capable than Jack thought she would be. I also thought it was terrific that, once he knew she was, he didn't balk at her participation in all the events. The whole genetic thing was very interesting, and I'm looking forward to seeing how the series progresses. Sure wish the books were a little closer together though.