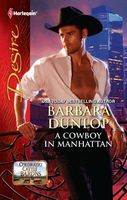 Series: Colorado Cattle Barons (Book 2)
He is Colorado to the core. And after an unexpected family reunion, Reed Terrell is also an overnight millionaire. But the cattle rancher's biggest surprise is his attraction to Katrina Jacobs. For as much as Reed is quintessential cowboy, she is pure city-slicker.

Even with passions riding high, Reed knows an affair with Katrina can't continue. She'd once lived the ranch life and long ago decided it wasn't for her. Though every fiber of his being yearns for the country, can Reed risk losing the only woman who makes him crave something more?
Very good book. I really liked Reed and the way he tried to do the right thing by not getting involved with Katrina, but he couldn't help himself. Katrina was different from the rest of the Jacobs family, thanks to going away at the age of ten. The attitudes of her family really bothered me, that they didn't really listen to her. I liked the fact that Reed did. I also loved the way he dropped everything and went to New York with Katrina. She did seem like a bit of a snob, being surprised all the time when he fit in so well in the city. The way he went about investing in things in the city was unique and really cool. I thought the confrontation with Quentin was terrific.