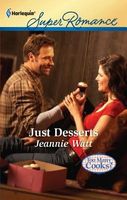 Series: Too Many Cooks? (Book 3)
Always proper Layla Taylor never expected to need her childhood nemesis. But when she's stranded in a blizzard after breaking up with her cheating ex, Justin Tremont is exactly what she's missing. Well, Justin and his car's snow tires.

Justin's more than okay being the rebound guy. A little fun, no strings -- that's his kind of relationship. But Layla Taylor? She's by the book, to put it mildly. Justin, on the other hand, hardly ever follows his own recipes for the spectacular cakes he's become known for. This woman is making him feel protective and possessive, of all things. And she sees right through him. That he can't have. After all, no chef likes to tell all his secrets...
Really good book. I loved seeing Justin finally find someone to love. He had been so intense through the other two books, that I was happy to find out why. He was so determined not to get close to anyone, that having Layla see right through him was freaking him out. He couldn't understand why she got under his skin and why he felt so protective of her. I loved the part at the school. Layla was so used to doing things by the book, and having a plan, that when she decided to break out of that mold, she wasn't quite sure how to do it. Her time with Justin gave her the chance to be different. She was amazed by the fact that she ended up feeling so much for him. I loved the way that she was there for him without judging him. I loved her part at the awards dinner. I just wish the school had backed down.