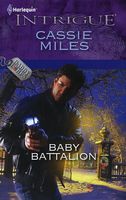 Series: Daddy Corps (Book 6)
"Dying" had been his best chance at protecting her. Coming home was the only way to keep her alive.
Nolan Law is a dead man. Five years ago, his pregnant wife buried him -- a soldier cut down in a desert war, a man who would do anything to protect those he loved. Even fake his death. His beloved Tess was safe as long as he was gone. Now a new assignment thrusts him back into her life -- and puts her at risk once more. When Tess looks at him, Nolan knows she sees a ghost. Tess deserves to know why this stranger stirs her passion so intensely, why her husband's eyes stare back at her from his unfamiliar, scarred face. Yet discovering the truth will only resurrect the danger Nolan "died" to protect her from....
Very good book and conclusion to the Daddy Corps series. I really enjoyed seeing the way that Tess pulled her life together after her husband died, and the way she was such a fantastic mother to her son. When she met Nolan Law for the first time, she couldn't believe that she was instantly attracted to him, when no one had appealed to her in the five years since Joe's death. Meanwhile, in his identity as Nolan Law, Joe wanted nothing more than to be a family again, but was intent on keeping Tess and Joey safe. I loved seeing how the team worked to find and rescue Bart, and seeing how other members of the team were doing. The conclusion was great, and I thought the gifts from the office manager were perfect.