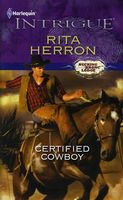 Series: Bucking Bronc Lodge (Book 1)
After a successful career as a Texas rodeo champ, Johnny Long quit living on the wild side. Now he was devoted to a cause he understood all too well: giving kids a second chance. But when he hires a mysterious woman, Johnny knows trouble has reentered his life. Not only is Rachel Presley beautiful, but the fear in her eyes -- and in those of her five-year-old son -- practically breaks his hardened heart. It isn't long before strange "accidents" put Rachel in serious jeopardy, convincing Johnny her past has caught up with her. Sharing some of his secrets is the only way to get to the bottom of Rachel's...even if revealing them could have their own dangerous consequences.
This was a really good book. Rachel's attempts to get away from her abusive ex-husband brought her and her son to Johnny's camp. Johnny recognized the signs of abuse and hired her on the spot. As they spent time together he could tell she was hiding something, but she was too afraid to tell him the truth. Because of that deception, Johnny had a hard time trusting her, because he'd been burned by someone else. As things began to happen on the ranch, Rachel became convinced Rex had found her. Johnny found out the truth about her past, and didn't know whether he could believe her story or not. The conclusion was definitely one that kept me on the edge of my seat.