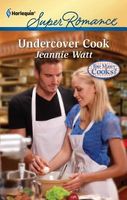 Series: Too Many Cooks? (Book 2)
Detective Nick Duncan will do anything to crack his latest case. Even if it means engaging in some less-than-legal undercover work. When his grandfather begins taking cooking classes at a catering company suspected of laundering drug money, it's almost too easy!

Until Nick meets Eden Tremont -- his new cooking instructor and the suspect's sister. The bubbly blonde is a whiz in the kitchen...and with his old grandfather. And before he even realizes what's happening, Nick is ambushed by his feelings for the woman. It's been a long time since he's cared about anything other than his job. But his reckless deception may cost him more than his case.
Fun book. I loved seeing how Nick ended up participating in the cooking lessons also, not just watching and trying to get to Eden's computer. Within a few days of meeting her, Nick felt really bad about his deception, but there wasn't anything he could do about it at the time. Eden really liked Nick and was attracted to him also. She had trust issues because of her ex-boyfriend, so I could see that Nick was going to run into some problems. I loved the old guys in the cooking class and their matchmaking attempts. The slight mystery in the story was good, but not really the main focus of the book. I did enjoy the tension, and some of Nick's antics to maintain his cover were pretty funny.