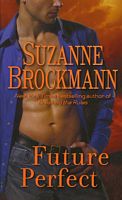 Bed and Breakfast

Juliana Anderson had carved out a pleasant life running a bed and breakfast in rural Massachusetts. Dressed in Victorian garb to match the old mansion, Juliana kept the place tidy, cozy, and running like a charm. Guests were treated to an old-fashioned home away from home, and "Miss Anderson" found a few vicarious thrills in their stories of travel and romance.


Unfortunately, not all visitors were model guests. Some, like Mr. Webster Donovan, came too close for comfort. From the moment this rough, handsome stranger waltzed into her kitchen, Juliana felt as if he'd taken over her home. His crystal blue eyes seemed to see through her gowns. His long, lean physique overpowered her senses. It was impossible to maintain proper etiquette with a man like Web around.


Web Donovan was captivated by the elusive Miss Anderson. With upswept red-gold curls and a fair complexion, she was a picture-perfect lady. He had booked a six-week stay at the B&B, hoping that the change of pace would end his writer's block. But every time he thought he heard the call of the muses, it was Miss Anderson's voice. Her face filled his daydreams. Her image haunted him at night. What would it take to seduce a reluctant beauty?
Good book. Web was really obnoxious when he arrived. I think part of it was that he was getting sick. He was also completely captivated by Julianna, and just didn't know what to do. Meanwhile, Julianna was completely floored by him. She couldn't believe the way he made her feel. As it turned out, he was a really sweet guy. I loved the way that he helped her out by dressing in Victorian clothes with her. As they spent time together, and got to know each other, their feelings grew stronger. Web realized that he didn't just want to sleep with her, he was happy just being with her. Julianna knew she was in love, but didn't want to give up her independence. It took quite a lot of work for them to finally work things out between them.