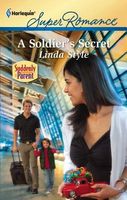 Series: Suddenly a Parent
Marriage? This must be a joke! Natalia Sokoloff has nerves of steel, but when David "Mac" MacAllister proposes marriage, she breaks into a cold sweat. A wife is Mac's best chance at adopting the son he fathered while on active duty in Iraq. And Natalia is his buddy. Besides, she owes him for saving her life during combat.

So how can she refuse? Especially if this is temporary -- they'd only need to play house until the adoption is final. Except even that's far too long and too intimate for Natalia. Because there are some things a girl doesn't want even her best friend to know!
Excellent book. This was an emotional book on several levels. There is Mac getting custody of his son, and his worry about being a good father. There is Natalia and her PTSD. And then there is the developing relationship between Mac and Natalia. Mac found out about his son a year ago and has been trying ever since to get him to the US. He finally decided that he would have a better chance if he were married. Since he had never felt the desire to do so, he decided to ask his best friend Natalia to help him out. Meanwhile, Natalia had given up on the idea of marriage and family because of the nightmares and flashbacks she has been having. She did have a positive for the marriage, in that she too came to the US as a child and can relate to Davey that way. Then there is the relationship that is developing, beyond friendship, between Mac and Natalia. They had both been becoming more and more aware of the other, but each thought the other was not interested in taking it further. I loved seeing Mac and Davey grow closer, and also how much Davey came to mean to Natalia.