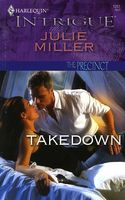 Series: Precinct (Book 12)
NO CASE HAD EVER STUMPED HIM.





NO WOMAN COULD PENETRATE HIS HARDENED SHELL.



UNTIL JILLIAN.



SWAT Captain Michael Cutler's pulse was racing. He should have been thinking about the intense hostage crisis he'd just diffused. But he couldn't keep his mind off of her -- Jillian Masterson, the leggy brunette who had come to him for protection from an obsessive stalker. He certainly hadn't been looking for love, especially with someone fifteen years his junior. But their chemistry was undeniable. As the stalker's threats intensified, Michael knew he'd go to any lengths to bring him down. Even if that entailed giving Jillian some very personal security....
Terrific book. I've already read the Precinct:SWAT books, so I enjoyed going back and reading Captain Michael Cutler's story. At the beginning of the book, we see him as the worried single dad, concerned about his son's physical therapy progress. Jillian is the physical therapist. She has developed what she feels is a crush on Michael (he is 15 years older than she is), Michael has noticed her as a woman, but the age difference bothers him. When he finds out about her stalker, he goes into protector mode, and quickly realizes he has deeper feelings for her than he thought he did. Meanwhile, Jillian feels that her past keeps her from having a relationship with anyone, but especially Michael. When the stalker increases his activities, their feelings also intensify. The ending was fantastic, and I loved the way father and son were able to open up with each other
.