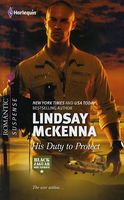 Series: Black Jaguar Squadron (Book 3)
"Why the hell are you here?"
Captain Ty Hamilton knows the woman hates him, especially since he'd tried to sabotage her military career. All those years ago, the formidable Rachel Trayhern had fought back and won.
Ty paid a high price for his arrogance. Now they're stationed at the same base in Afghanistan.
Worse, she's been assigned to his unit. In five years, he's changed enough to feel ashamed of how he'd behaved. He wishes he could apologize, but Rachel's steely demeanor holds him at bay.
Suddenly, a mission gone awry leaves Ty and Rachel stranded in enemy territory. And with their lives at stake, old hatreds become trivial -- and new, unexpected feelings awaken....
Good book. I have always liked Lindsay McKenna's Morgan's Mercenaries/Trayhern books, and this one did not disappoint me at all. Ty was assigned to the same base, and Rachel had to work with him. She was still furious with him, and refused to give him more than the barest civility necessary for her job. She kept waiting for him to be the same anti-woman jerk he had been before. As she worked with him, she realized he had changed. She also found herself attracted to him. Ty had had five years to learn from his mistakes, and he had learned his lesson about the capabilities of women in the military. Now, all he wanted was the chance to apologize to Rachel and prove to her he had changed. When their chopper was shot down and they found themselves stranded in enemy territory, they had to depend on each other. And with the end of their hatred, their new feelings became more apparent. I loved the way they were able to talk to each other about the past, and put the old feelings to rest. I liked seeing Khalid and Emma again, too.