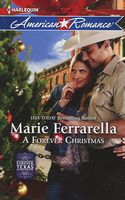 Series: Forever T

exas

(book 6)
Her Gift Is Her Present
When Gabe Rodriguez took the job of deputy sheriff in the small town of Forever, Texas, he thought he'd be bored. So he's shocked the morning he discovers a car teetering on the edge of a deep ravine with an unconscious woman at the wheel. Gabe makes a daring rescue, but when the woman awakes, her memory is wiped clean.

Gabe may call her his Christmas "Angel," but in her eyes, he's the one who is truly heaven-sent. Gabe's given her a whole new life, and she is haunted by the feeling that this is the happiest she's ever been. Though Gabe is trying to help Angel recover her memory, she's willing to leave it all behind her and start fresh with him at her side. But when her past finally catches up to her, Angel could lose everything, including Gabe.
Very good book. Angel is on the run from a man who is trying to kill her. While fleeing she has an accident and is rescued by Gabe. When she regains consciousness she can't remember anything, but is healthy otherwise. I really liked both Gabe and Angel. Gabe is serving as a temporary deputy while coping with a broken heart. After rescuing Angel he feels responsible for her, so while the sheriff's department tries to find out who she is, Gabe takes her home with him. He is attracted to her but has no intention of taking advantage of her that way. He enjoys being with her and finds that her presence makes his house feel like a home. He soon realizes that he has fallen in love with her and wants to keep her in his life. Angel flees in terror from the man trying to kill her, but has fear of another type when she awakens with no memory. She feels that there is something she should be afraid of, but the memory isn't there. She quickly comes to trust Gabe and the other people of Forever and is happy working in Miss Joan's diner. She is attracted to Gabe and it isn't long before she is able to show him that he wouldn't be taking advantage of her, but making her happy. Despite her still missing memory she is very happy there. I really liked the way that she was such a people person and how much everyone liked her. I also loved the way she was able to stand up to the bad guy at the end and make her happy ending with Gabe possible.