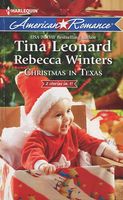 Texas Tough...And Christmas Tender
Christmas Baby Blessings - Tina Leonard
Ranger Seagal West is back in Bridesmaids Creek, Texas, on bodyguard duty with his soon-to-be ex, Capri Snow. And what a body to guard: to his surprise, she's carrying twin babies. His babies. Capri is as irresistible and stubborn as ever. So how can Seagal convince Capri they all belong together - and not just for Christmas?
Very good story. Seagal has come to town for two reasons. First, to protect his wife and find out who is moving drugs through her flower shop. Second, to convince her that she wants to stay married to him and raise their babies together. I really liked Seagal and Capri. Seagal didn't want a divorce. He knew he was still in love with her, but he had to find a way to convince her. I really liked the way he took care of her when she was put on bedrest and after the babies were born. He was a little heavy handed, but his heart was in the right place. I enjoyed his conversation with his friend, who tried to tell him that he had to actually talk and tell Capri his feelings. I liked Capri also, but had a slightly harder time having sympathy for her. She was convinced that he regretted marrying her and kept pushing him away. But she was good about doing what she needed to for the babies. She also realized that she still loved him and eventually did see that it had always been her that he loved.
The Christmas Rescue - Rebecca Winters
A slippery road, a speeding car - and Texas Ranger Flynn Patterson finds a baby lying helpless in the wreck. As he comforts the boy, Flynn's heart turns over. He'll never stop grieving his own lost family. But he can take care of this little guy, and his desperate mother. No matter how Andrea Sinclair pushes him away, Flynn knows the safest place for the fugitives this Christmas is his own lonely home. But will they stay?
I loved Flynn and Andrea. Flynn was still hurting over the deaths of his wife and child and hated the Christmas season because of it. When he came across the car accident and rescued baby Jack, he was immediately touched by the baby and his trust of Flynn. When he was able to reunite Jack with Andrea it made him feel really good. After he found that there was still a chance that her ex could come after her, he took Andrea and Jack home with him to protect them. Flynn found that having Andrea and Jack there relieved some of the grief he had been feeling. He also discovered that he was attracted to her. He felt good about trying to make the holiday and good one for them and actually enjoyed doing Christmas things again. When the threat ended he didn't want them to leave yet, so he found a way to keep Andrea around by asking her to work for him. Andrea had run from her home after threats from her ex-husband. When she was attacked and her baby kidnapped she was terrified. She was immensely grateful to him, and even more so when he took it upon himself to take them home with him. What she didn't expect was her attraction to him. She also found her heart melting every time that Flynn took care of Jack. The more time she spent with Flynn the more she fell for him. When she had the opportunity to help him with his work, she took it and ended up helping him solve two murders. When he was injured it brought home to her how much she had come to love him.