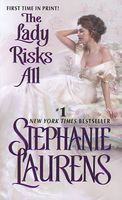 Neville Roscoe, notorious and enigmatic, lives resolutely outside society, bound only by his own code of honor -- until challenged by his desire for the one woman he cannot have.
Miranda Clifford is a lady imprisoned by rigid respectability -- until tempted by a passion beyond her power to deny.
Flung together in peril, through danger and intrigue, they discover a love impossible to ignore . . . or keep.
Loved the book. Miranda is twenty nine and unmarried. She and her brother live with their aunt who has raised them under strict rules of respectability. Miranda has always watched out for her brother and follows him one night when she is worried about his activities. She is caught by the owner of the house, Neville Roscoe, the gambling king of London. He shows her that she doesn't need to worry about Roderick's presence there and escorts her home. A few nights later, Roderick goes missing and she goes to Roscoe for help. In spite of his reputation, Miranda insists on accompanying him on his search. It takes several days and some danger, but they find him and take him to Roscoe's family's home to recover. From there it's back to London to try to find out who is behind the attack on Roderick. I loved both Miranda and Roscoe. He is a nobleman who left his life behind and became to gambling king in order to save his family from ruin. He has spent twelve years keeping himself separate from them, with only occasional furtive visits. He knows that if his identity were known his family would suffer the disgrace. He has also accepted the fact that no respectable woman would marry him. From the beginning Miranda has something that calls to him. He can't stop wanting to be with her, and even lets her in on his daily life while they wait for information on what has happened to her brother. He likes the way that she stands up to him even as it frustrates him. He is attracted to her but refuses to start anything with her, until she comes to him with her needs. When he takes her and Roderick to his family's home it is one more step in breaking down the walls that have kept his life apart from his family's. He is determined to protect her from danger, but also from being affected by his reputation, and tries to end their relationship on their return to London. I loved his protectiveness to his family and to Miranda. He was so willing to give her up for her own good that it hurt to see. I loved the way he came to the rescue at the end. Miranda was a woman who started out as kind of uptight, but that was due to her aunt's influence. When she made the decision to help with the search her inner strength came out. I loved the way that she simply refused to take no for an answer when dealing with Roscoe. Her appearances at his house enabled her to learn more about him and I loved the way that her opinions and feelings began to change right from the beginning. She also had no problem speaking up for herself when she had an idea that would help and kept after Roscoe until he had to admit that it would work. I loved the way that she decided that she would give in to her attraction and take the opportunity that she felt would never come again. I also enjoyed the way she was so readily accepted by Roscoe's family and the way that they showed her another side of him. I loved seeing her interactions with them and how they gave her a new perspective on society. When they returned to London she wanted to continue seeing him and was upset when he refused. She tried to move on with her life, but things kept happening that would bring them back together. I really enjoyed the time that she lost her temper with him and the effect it had on him. I really liked the way she went to him at the end and fought for what she wanted. Though there were a few times the story dragged a little bit, the rest of the book made up for it. I was glad that Roscoe got his own story since his appearances in The Reckless Bride and The Edge of Desire were very intriguing.