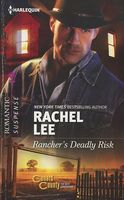 Series: Conard County: The Next Generation (Book 13)
He's her only refuge. In these rugged mountains, Cassie thought she'd finally found the small-town welcome she's been looking for her whole life. But after she stops some school bullies, suddenly the rest of this close-knit community isn't acting so friendly. The threats begin, and this schoolteacher has nowhere to turn for help -- until a rugged, mysterious rancher steps in.
Lincoln Blair has been drawn to Cassie from day one. That's why he's avoiding the too-tempting new teacher -- he knows from experience that outsiders get bored and leave. Still, he just can't help wanting to protect Cassie when trouble starts. As her danger grows, Linc realizes it's his heart he's forgotten to safeguard….
Very good book dealing with the tough subject of bullying. Cassie is a new teacher and is really enjoying life in the small town. But she finds things are a little less friendly after she stops some bullies. The school principal assigns her and Lincoln to work out a program for dealing with the subject. Suddenly there is an attraction between the two that is hard to deny. But both have issues from their pasts that have them misinterpreting things. I really liked both Lincoln and Cassie. Cassie had been bullied herself and had no intention of stepping back and ignoring the problem. She knew the long lasting effects that bullying can have and didn't want anyone else to suffer them. She was surprised to be working with Lincoln who she thought didn't like her at all since he pretty much ignored her. She is surprised to find out that he is attracted to her, but doesn't expect it to last since her relationships never do. I loved the way that she was so enthusiastic about the area and especially his ranch. It was obvious that she really felt that she belonged. She was confused by Lincoln's frequent hot and cold changes, but was finally able to show him that she wasn't going anywhere. Lincoln had tried to keep his distance from Cassie. He had been attracted to her from the beginning, but didn't trust that, as an outsider, she would stick it out. He had been hurt by another woman who cut and ran and didn't want to go through that again. He kept trying to stay away but found himself coming back to her every time. When the attacks on her got dangerous he stepped in to protect her, and ended up being just in time in that final attack. I loved watching him introduce her to life on his ranch. I also liked the way he tried so hard to make her see how beautiful she is to him. When they finally stopped talking past each other things finally came together for them. I hope to see more of them in future books.