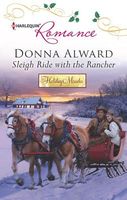 Series: Holiday Miracles (Book 2)
A week before Christmas, city girl Hope McKinnon finds herself snowbound with rugged rancher and all round do-gooder Blake Nelson. What is it about this handsome, generous man that has her blood boiling and her pulse racing?
Blake knows his ranch is the last place that Hope wants to be, but somehow her presence feels so right! Hope is the first woman guarded Blake has wanted to be around for a long time. Her visit may be temporary, but he has one more night to convince her to stay….
Very good book. Hope is a photographer who has been sent to Blake's therapeutic riding center to take photographs for him. She doesn't really want to be there, but she can't say no to her grandmother. I liked both Blake and Hope. Blake uses his ranch to make things better for kids who have challenges. He can relate to them because of a disfiguring scar he has and because of the loss of his twin brother when he was younger. He can see that Hope holds herself back from getting involved with people, but he wants to get closer to her. There is something about her that he feels makes her belong there with him. The longer she is there, the more he can see her opening herself up to her feelings. As much as he loves what he does, he also has his own issues to deal with - mainly his feelings of guilt over not being able to save his brother. Hope is the oldest of the three sisters. Their childhood was pretty rough with their parents constantly arguing and moving around, so Hope did her best to take care of her sisters. That very instability gave her a constant need to be in control of everything. This ended up causing a rift with her sisters and an inability to commit to any relationships. When she met Blake seeing his love and care for all the children caused her to start experiencing feelings she had buried for years. But she was afraid to give in to the feelings because she had no control over what might happen and that scared her. After she left Blake to go home for Christmas, a conversation with her sister Grace made her see what she had been doing. I loved the conclusion of the story. I'm really looking forward to Grace's story and the series wrap-up.