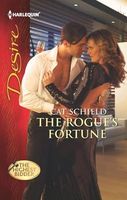 Series: The Highest Bidder (Book 5)
Elizabeth Minerva tries to steer clear of legendary adventurer Roark Black and focus on her career and her attempts at motherhood. But the rakish treasure hunter can help her in her quest to be a single mom, if she'll do him one tiny favor....
To save his beloved auction house and his own reputation from ruin, Roark needs to settle down fast -- with a sensible woman. After a six-month "engagement," he and Elizabeth can go their separate ways.
But Roark knows priceless objects, and Elizabeth is the real deal. Now he intends to keep her...by any means necessary.
Very good book. I have been looking forward to Roark's book and it was just as good as I expected. Roark needs help to rescue the auction house and preserve his reputation. It was suggested to him that it would help if he were seen to be settling down. He had met Elizabeth and was attracted to her, so he offered to help her if she would help him. I really liked both Elizabeth and Roark. Elizabeth has made the decision that she wants a family of her own. She has had bad luck with men, ending up with losers who end up hurting her. So she has tried in vitro, but has been unsuccessful and is out of money. By helping Roark she will get enough to try again. She finds that her attraction to him is interfering with her ability to keep her distance. When she decides to just give in and enjoy it, she finds that she is also falling for him. I enjoyed the way that, even though she was falling for him, she still managed to stand up to him when she needed to. I also liked the way that she began to see the Roark that he worked so hard to keep hidden. I also loved the way she got what she wanted in the most unexpected way. I've liked Roark from the beginning of the series. I love the way that he works so hard to find the artifacts and that he gets them in an honest way. I could see that his travels were a way for him to escape the guilt he felt over leaving his mother. He wants to help save the auction house so he goes to Elizabeth with his proposal. This serves two purposes. It makes him appear to be settling down and it also allows him to get closer to her. He has been drawn to her from the moment he met her. What he doesn't expect is that being with Elizabeth makes him feel more content than he ever has before. When he is away from her she is never far from his mind. When he finds out the truth about his parents it frees him from some of his guilt and enables him to offer all of himself to Elizabeth. I'm really looking forward to the next book and the resolution of the mystery.