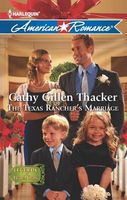 Series: Legends of Laramie County (Book 3)
Few people in Laramie, Texas, know that Merri Duncan is actually the biological mother of her late sister's twins. Even fewer know that Chase Armstrong, and not his late brother, is their biological father. It's even news to Chase -- and when he returns from military duty, he's determined to do the right thing by Merri, who's been raising the twins alone on the Broken Arrow ranch. It's time for a walk to the altar, for the sake of the children.
There's just one problem. Merri and Chase are, as they always have been, just friends -- nothing more. Without love, their marriage can never be truly complete. Sticking it out may mean sacrificing their chances for future happiness. But maybe faith, hope and desire can bring these two newlyweds what they truly need. After all, it is the season of miracles.
Very good book. Chase got quite a surprise when he got home and found out that he was actually the twins' father, not their uncle. Because he and Merri felt it was important that the children had a stable home, they got married. They had always been friends, so they figured it would be no problem. They soon discovered that their friendship was becoming something else, but what was it really? I liked both Chase and Merri. Merri had been named the twins' guardian when her sister and Brother-in-law died. Chase had been overseas for most of the time and had not been around the kids much. When he returned she felt it was only right that he be involved in their lives. She didn't know that his brother had forged Chase's signature on the sperm donor form and that Chase didn't know he was the father. When he did, he proposed marriage to give the kids two parents. Merri wasn't sure about getting married having been burned once by a man she had lived with and thought she loved. So she tried to keep Chase at a distance even after they were married. She wasn't expecting the intense attraction they had, and also that they would grow closer. She was always afraid that it wouldn't last and didn't want to have her heart broken again. She soon discovered that she had fallen in love with him, but thought that it was hopeless. I liked the way that she worked so hard to help Chase and the twins get closer. She seemed to know what to do and also was very sensitive to his feelings. I also liked the way that she finally decided he was worth fighting for. Chase was a great guy. He had worked well with his nurses overseas, to the point where a group came to visit him when they came back, not knowing that he had gotten married. One of the nurses had a huge crush on him and kept making advances that he would shut down, but bothered Merri. I loved the way that he really wanted to connect with the kids. It was very hard for him to be patient, but it finally paid off when he quit trying so hard. I also loved the way that he realized his feelings for Merri before she did and was determined to win her over. I loved the thought that went into his Christmas gifts for her. Their final attempts to connect with each other got them the happy ending they wanted.