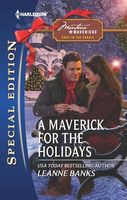 Series: Montana Mavericks: Back in the Saddle (Book 5)
THUNDER CANYON NUGGET
A SEASON OF THANKS AND GIVING
Next time you pass Major Forrest Traub on the street, make sure you give him a real Thunder Canyon- style welcome. The handsome soldier hasn't smiled much since moving here from Rust Creek Falls, but this hasn't deterred our favorite do-gooder, Angie Anderson. Angie's convinced she's met the man she's going to marry.
Forrest sees Angie as a rosy-eyed optimist, too young and innocent for a man who's lived through Iraq. Yet her irresistible warmth may actually be thawing his hardened heart. Suddenly she's got him volunteering with teens, arranging holiday events, even-"gasp"-smiling. Can Angie's unwavering faith rescue Forrest from himself? Give thanks, loyal readers, for your many blessings-and hope that Angie and Forrest can find theirs.
Very good book. I really liked both Forrest and Angie. Forrest had come to Thunder Canyon because of a doctor there that is helping with the leg wound Forrest got in Iraq. Because of the wound and his nightmares, he has been pretty much a loner feeling that he is too "damaged" to be any good in a relationship. He has started coming out of his shell a little bit while working with a therapy dog and has started a support group for veterans. When he meets Angie he sees her as a very young Pollyanna type. But he is attracted to her and doesn't want to be. He soon finds that she has talked him into helping out with her teens and other projects. He also discovers that being around her has made him feel better. I loved the way that he keeps trying to pull back but Angie won't let him. They work together very well with the projects she involves him in. I loved the way that talking to other veterans about relationships helped him realize he could have it all. Angie was a force all by herself. She is great at getting people involved in things and is so positive that they can't help but agree. She does have some self-esteem issues with not knowing what she wants to do with her life. She was attracted to Forrest from the time she met him and went after him with a single minded focus. Even though he tried to keep her at a distance, she just wouldn't stay away. I loved her tactics when she took care of him when he was sick. I also liked the way she didn't give up on him at the end. I'm looking forward to seeing more of them in later books.