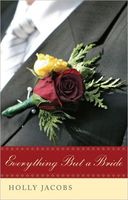 Series: Everything But (Book 2)
Every Hungarian grandma knows that words have power. Nana Salo never meant the words she said in anger to become a family curse, but that's just what happened. She thought she had a good chance of undoing it at her granddaughter's wedding, but when things went awry, she pinned her hopes on her grandson Noah's wedding. Noah's fiance called things off at the stag, but when his ex's younger step-sister and long time friend, Callie, tries to cheer him up, Noah finds the lines between friendship and love blurring. A shared non-honeymoon, some secret dating, and a crazy Hungarian family might not sound like the normal way to start a relationship, but Callie and Noah learn that love tends to find its own way.
Another fun entry in this series. This time it's Noah's wedding that falls apart. We met Julianna in Everything But a Groom. It was obvious that she didn't really fit in with the rest of the family, staying apart and not joining in with the fun. Finally, at the stag party, she admits that it isn't working and tells Noah that the wedding is off. He is stunned, as he hadn't realized that anything was wrong. Nana feels that her curse has struck again. Once again the reporters are circling and Noah feels like he is being smothered by his family. So he decides to use the honeymoon package to get away from it all. His ex-fiancee's stepsister has just broken up with her boyfriend, and since he and Callie have always been friends he invites her to go along. Things start to change, and that's when life gets interesting. I really liked both Noah and Callie. I love a friends to lovers story and this one was great. Noah was hiding out from his family because they seemed to feel that he was much worse off than he really felt. He asked Callie to go along on his getaway to help her cheer up just as she was trying to help him. They had always been friends, with Callie going along on many of the activities that Noah and Julianna did. While on the trip, Noah started looking at Callie differently and seeing that she was her own woman. He also noticed that he and Callie had a lot more in common that he and Julianna ever had, and soon realized that he and Julianna had loved but not been in love. By the time they got back home, Noah had figured out that Callie meant a lot more to him that he had thought possible, but also that the thought of them as a couple had her really spooked. He first tried getting friends and family to vouch for him, but she didn't want to risk their friendship.
So he decided on a course of "stealth dating". He shared meals with her, did movies and visits with her, helped her with her projects, using that time to get to know her even better. Then he informed her that they'd been dating all along. Callie liked Noah a lot and considered him to be her best friend. When she suddenly started seeing him as a man it made her really nervous. All her experiences showed her that love didn't last, but friendship did. When Noah kissed her a few times the attraction was fantastic but she was afraid to pursue it. She insisted that there was no way she would date him. When he went back to treating her like a friend, she was mostly relieved, though there was a small part of her that wished he had pursued it. The scene at the end, when she finally admitted that she loved him was so much fun. I loved seeing the family there to support him, even though he kept trying to tell them he was fine. This has been a really fun series and a great showcase for Holly Jacobs' talents with characters and situations that are just plain fun.