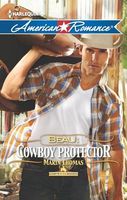 Series: Harts of the Rodeo (Book 5)
Beau Adams can't stop thinking about Sierra Byrne. Her feisty spirit and ample curves dominate his thoughts, while he should be focused on getting himself and Midnight, the Harts' prized stallion, to the National Finals Rodeo. When Beau and Sierra's electric connection finally leads to a steamy night together, Beau hopes it's the beginning of something more.
As much as Sierra wants to be with Beau, anything long-term is out of the question. A recently diagnosed eye disease will soon leave her blind, and she can't ask a rising rodeo star like Beau to take on that responsibility. Though she tries to pretend their tryst was just another item on her bucket list, Sierra's true feelings run a lot deeper. Will she let her affliction steal not only her sight, but her dreams of happiness, as well?
Good book. I liked both Beau and Sierra. Beau is intent on getting his rodeo career back on track and training Midnight. He's been attracted to Sierra for months and trying to get a date with her for just as long. He finally gets her to go out with him one time and shares a hot kiss with her, but then she pulls back. He is a guy who watches out for other people, and Sierra is starting to worry him. She is doing a lot of crazy things like drag racing and bungee jumping. He is distracted by her and starting to feel like she belongs in his life forever. When he finds out about her eyes, his protective instincts come out, but she keeps pushing him away. I loved the way that it took a couple people pointing out his overprotective tendencies for him to understand the problem. Sierra is a very independent person. She knows she is losing her sight and she is afraid of becoming dependent on someone and then having that person walk away. She has decided that she wants to do the things she has dreamed about while she still can. She is very attracted to Beau and can easily see him in her life, but doesn't want to be a burden to him. He starts to make her mad with his watchfulness and she pushes him away even harder. I liked the way they worked things out in the end. I'm really looking forward to Tuf's story and seeing how the story ends.