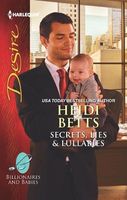 Series: Billionaires and Babies
Rock-a-Bye Billionaire
No problem's too big for CEO Alexander Bajoran...until a baby is left in his boardroom with a note stating he's the daddy. The mother must be Jessica Taylor, an unforgettable though regrettable one-night stand. Why would she do such a thing?
When Jessica returns, desperate and remorseful, there's no way Alex will let her walk away with his son. And after discovering that she's connected to his jewelry empire's biggest rival, the mogul wonders if the pregnancy really was an accident. What will he gamble to keep his heir...and the woman who still has a stranglehold on his heart?
Very good book. I really liked both Alex and Jessica. Jessica and Alex had had a one night stand and she never expected to see him again. She had been incredibly attracted to him from the beginning, but she recognized him as the man whose company had ruined her family. Her cousin had convinced her to see if she could find anything with which to get revenge and she had. Before she could return it, he had left and she hid it away. When she discovered she was pregnant she left her job at the hotel and tried to find work elsewhere. By the time the baby was three months old she was desperate and left the baby at his office. She couldn't just walk away and showed up that night. Alex wasn't going to just let her walk away, so he convinced her to stay. I loved Jessica's attitude. She didn't really mind the loss of her former socialite lifestyle and had been happy with her hotel life. She knew she shouldn't get involved with Alex but the attraction was too strong to resist. When she showed up a year later I loved the way she owned up to what she did, but also stood up to him over the things she hadn't done. I liked the fact that she didn't try to keep the baby away from Alex once he knew. I also loved the way she surprised him at the fundraiser and how it worked for them. Alex was also a really great hero. I liked the fact that even after the one night stand he tried to find her so they could be together. He was furious over what he saw as her deception and the way she didn't tell him about the baby. But he did listen to what she told him about her family and investigated. I loved the way he took to Henry almost right away and how good he was with him. I really love seeing these tough guys turn to goo over a baby. It took him a little while to realize what he felt for Jessica was love, but when he did it was fantastic. I loved seeing what he did about the mess with her family and the epilogue was great. I do wish I knew what happened with her cousin.