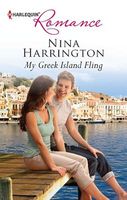 For Lexi Sloane, ghostwriting a celebrity memoir on the Greek island of Paxos will be a career breakthrough…if she can persuade Mark Belmont to open up about his famous mother's life. Considering he grew up in the spotlight -- with movie-star looks to boot -- he's infuriatingly guarded.
Mark doesn't need this quirky busybody interfering, no matter how beautiful she is. But gradually he realizes that Lexi sees beyond his family's headlines -- and is offering him an opportunity to set the record straight. In return, he'll teach Lexi to stop hiding behind the experiences of others and live her own life!
Very good book. After a rocky beginning, Lexi is able to convince Mark that she can help him with his mother's biography. But he is still very cautious and she can tell that he is still holding things back. When they finally have a breakthrough she is able to help Mark put together what he needs to tell his mother's story. I really liked both Mark and Lexi. Mark is fighting feelings of guilt for not spending as much time as he could have with his mother. He also has a need to tell his mother's story, but also a dislike of opening up their private lives to the public. He finally gives in to Lexi's assurance that together they can do the story justice. Pretty soon he finds that just being with Lexi has changed the way he feels about his life and his future. Lexi is a woman who is very good at what she does. She enjoys her job of ghostwriting as it gives her the chance to meet interesting people and go to fabulous places. It also enables her to forget for a time that because of a childhood illness she will never have children of her own. While their beginning was rather difficult, soon she and Mark are working well together. She loves being able to help Mark remember the good things about his mother's life and help banish the less pleasant memories he has. She also finds that the more time she spends with him the more she comes to care for him. She also knows that he needs a son to continue his family legacy so she leaves him behind, loving him too much to deny him that family. I loved the conclusion to the story and the way that everything worked out for them. The book was a great combination of intense emotion (the discussions of his mother and Lexi's infertility) and fun (the cats and some of the conversations that Mark and Lexi had).