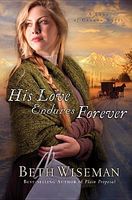 Series: Land of Canaan (Book 3)
An unplanned pregnancy. An absent father. Can love really endure all things?
Danielle Kent is anything but Amish. Just her luck to fall in love with an Amish guy. Now she's 18, pregnant, and hopeful that the child's Amish father-Matthew Lapp-will do the right thing and marry her. She knows Matthew plans to leave his Colorado settlement for a life in the "Englisch" world. But that plan never included a baby.
When Matthew walks away from her and their unborn child, she has nowhere to turn. Her unlikely friendship with Levi offers some comfort-yet they have so little in common. This wasn't the plan she had for her life, and she's never felt so alone. She doesn't want to be pregnant. Doesn't want to be Amish. Doesn't want to trust God.
And yet. God has plans beyond what her mind can imagine . . . loving plans to show a lost young woman that His love never goes away but endures forever.
Very good book. I liked both Levi and Danielle, though she had a fair amount of maturing to do in this book. When Danielle discovered she was pregnant, she was devastated when Matthew walked away from her and refused any responsibility. She went to Levi for comfort, since he had been her best friend since she had come to live there. Danielle is still very young emotionally. She had a crummy home life, where her mother abused her. She ran away and ended up living with Martha, an Englischer who lives in the Amish community. Levi offers to marry her, to raise the baby as his own and take care of her. At first she refuses, because she knows that it will cause him to be separated from his Amish faith. He convinces her to accept and they marry. Danielle has never learned how to cook or keep house and her first few weeks are pretty rough. She also has to cope with the fact that Levi's mother dislikes her and blames Danielle for luring Levi away. Danielle also has no faith in God which is hard for Levi to accept. Over the weeks of their marriage, Danielle starts to believe that maybe God does exist and has a plan for her life. With help from Martha and other friends in the community, Danielle learns how to cook and care for the house. When Danielle is put on bedrest when her pregnancy is threatened, Levi's mother steps in to help. This gives her and Danielle a chance to get to know each other and Vera soon comes to care for Danielle. She also helps Danielle learn about the Amish faith and about her own relationship with God. I also liked Levi and the way he wanted to help Danielle. He felt called to marry her even though he knew the problems it would cause. I loved his patience and the way that he wasn't a critical husband when Danielle was first learning her way around being married. I also loved the way he supported Danielle, even standing up to his strong-willed mother. His quiet faith also help Danielle grow in hers. I thought the ending was very well done, and very believable because the changes happened over a period of time.