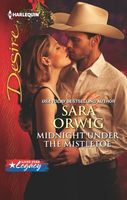 Series: Lone Star Legacy (Book 3)
She didn't look like any secretary he'd ever met
Billionaire Zach Delaney needs a live-in assistant while he recuperates from an injury. But when Emma Hillman arrives at his Texas ranch with her suitcase, he knows he'll have to work hard to resist her. She's sexy and efficient, but way too family-oriented for a risk-taking globe-trotter like him.
Emma is supposed to type, file and sort through centuries-old Delaney family letters-not be seduced by her gorgeous boss into a can't-last affair. But as she tries to transform Zach into a man who values family, she ends up expecting a Delaney of her own. Will Zach head for his jet...or welcome his Christmas heir?
Very good book. I liked both Zach and Emma. Zach is very much a loner, thanks to the rather dysfunctional upbringing he had. His mother abandoned the family and he and his brothers were sent to separate boarding schools so they never really had a chance to bond as a family. That improved a little as they got older, but he was still more comfortable alone. He was immediately attracted to Emma, but he didn't understand her and her devotion to her family. It was interesting seeing him fight the way that she made him feel, and the way that she tried to get him to see how important family is. I did like the way he is so loving toward his niece. He was so intent on leaving for Christmas and being on his own like usual that he just couldn't understand why it had suddenly lost its appeal. I loved the way that he was finally able to connect with his past. Emma was so family oriented that she knew nothing would come of a relationship with Zach. But she also couldn't resist him and thought that she would be able to handle a short term relationship. I really liked the way she got so invested in reading the papers from the Delaney ancestors and how she tried to show Zach how important they were. She soon discovered that she loved him even though she was sure nothing would ever come of it. When she realized she was pregnant she was sure that he would still not be interested in settling down, even though she was certain he would still care for the baby. I really liked the way that he came to her and convinced her of his love before he knew about the baby.