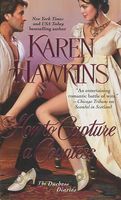 Series: Duchess Diaries (Book 1)
Urged by her favorite nephew, the intimidating Duchess of Roxburghe agrees to transform a thorny Scottish rose into a lovely bloom. But even she isn't prepared for fiery Rose Balfour.
At seventeen, Rose fell wildly in love with Lord Alton Sinclair, known as Lord Sin for his wicked ways. Stung by his indifference, the starry-eyed girl tried to win an illicit kiss, but then panicked and pushed the notorious rakehell into a fountain. Leaving Lord Sin floating among the lily pads to the mocking laughter of his peers, Rose escaped back to the obscurity of the Scottish countryside.
Six years later, Sin convinces his aunt, the Duchess of Roxburghe, to invite Rose to her annual house party, where he plans to get revenge by making Rose the laughingstock of polite society. To his astonishment, he finds she has become an alluring woman who threatens to turn the tables on his nefarious plans. Thus Sin and Rose begin an epic battle of the sexes that becomes more passionate at every turn. Eventually, one will have to surrender . . . but to vengeance? Or to love's deepest passion?
Loved it! After their first meeting ended up with Lord Sinclair being an object of ridicule, he wanted nothing more than to get revenge. Six years later he got his chance when Rose was at a house party given by her godmother who is also his great aunt. He corners her and states his intent to seduce her because of what she had done. She apologizes because she had no idea of the results of that evening, but he doesn't care. She tells him that he is welcome to try but she is no longer a young girl and has the experience to resist. Her definition of experience and his are vastly different. I really liked both Sin and Rose. Rose has been stuck in the wilds of Scotland for six years and looks forward to this party as a change and also a chance to make things better for her two younger sisters. She finds that she is just as attracted to Sin now as she was all those years ago, but doesn't intend to give in to him. She is intelligent, strong willed and very competitive. I loved the way that she constantly managed to outwit Sin's attempts. Their horse race was fantastic and I loved the way that she outwitted him there. She did find that the more time they spent together the more they had in common. She also enjoyed their kisses even though the intensity scared her at times. I really liked the way she refused his proposal because she wasn't going to marry without love. Sin was an interesting guy. I loved the way he had been so obsessed with Rose over the six years. He was determined to get even with her and thought it would be easy to do. He was surprised when he saw Rose again, especially at the attraction he still felt for her. He considered Rose's resistance to be a challenge that he had no intention of losing. He was frequently frustrated by Rose's ability to circumvent his attempts. I liked the way that things started to change for him, even though he refused to admit it. I loved the ending when he finally admitted his love. I really liked the Duchess and her friend and the way they helped Rose and Sin from behind the scenes. Her scene with Sin when he came to her at the end was fantastic. One of my favorite things about Karen Hawkins' books is the wonderful dialog between the hero and heroine. I am definitely looking forward to the rest of the series.