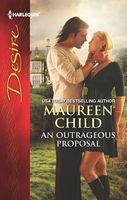 When Georgia Page accepts Sean Connolly's proposal, she knows it's crazy. But surely she can pretend to be a self-made billionaire's fiancée for a little while, just until his mother regains her health. Surely she can keep her heart out of this affair, no matter how sexy he is -- or how well he plays the devoted lover.
It all seems so simple -- until their pretend kisses and fake embraces lead to something all too real, something neither of them expected. Something that could turn an outrageous proposal into wedding bells…
Oh what a fun book. Sean and Georgia have become friends now that her sister is married to his cousin. What they didn't expect was a growing attraction between them. When they finally gave in, it was explosive and they began a planned no strings affair. Then Sean's mom had a heart attack and laid a guilt trip on him about wanting him settled. So he asked Georgia to pretend to be engaged to him until his mom was feeling better. The more time they spent together the more real it seemed. Sean is a lot like his cousin Ronan (Up Close and Personal). He didn't want to have to worry about love. All he could see of it was that people lost control and acted like idiots. He really enjoyed his affair with Georgia and found more and more that he just liked spending time with her. He also noticed that he was spending a lot of time thinking about her when they were apart. I liked the way that he was so supportive of her business and helped her get it set up. He was surprised by her ideas for his planes and intrigued by what he saw in her as she described them. When he decided that he would like to make their engagement real and went to her with his plan for them to marry he was stunned when she refused him. I loved his total cluelessness and the way he didn't believe Ronan when he told Sean what a bad idea it was. His loss of control at the end was perfect. Georgia was a lot of fun. I liked her independence and the way she went after what she wanted when she made her decision to move to Ireland. Her attraction to Sean was intense and she worried that she would end up falling in love with him. She thought she would be able to control her feelings but ended up falling anyway. I loved seeing her at her ex's wedding and the way she stomped on him. When Sean first proposed making their engagement real she had high hopes, but then he kept talking about anything but love. She was hurt and furious and let him have it. The final scene in the wine cellar was great. I also loved Sean's mom and the way she conspired with Georgia's sister to keep them together.